Fragility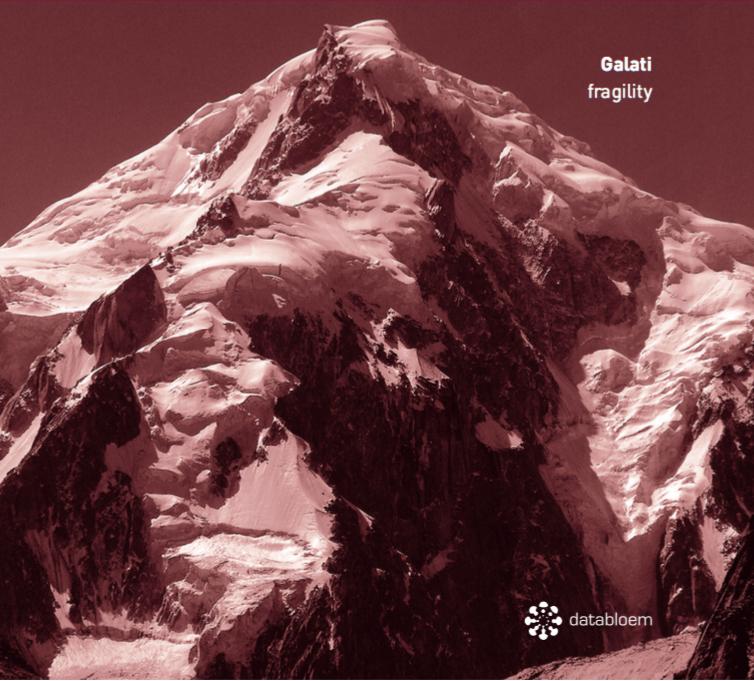 Release date June 7th, 2019 Databloem
6-Panel Digipack
Listen on Spotify

Music by Roberto Galati
Mastered by Lawrence English at Negative Space 2018
Design Theo Rabou

REVIEWS
Music won't save you
Rockerilla: "...Tra i drone di Galati sembra di sentire il movimento dei suoi pensieri, la fragilità del tempo antropomorfizzato rispetto ai tempi delle ere geologiche che disegnano la morfologia della Terra. Mostrando le increspature dell'elettronica che da intima si fa epica. Toccante". Roberto Mandolini, Rockerilla 467/468, luglio/agosto 2019
Feardrop
Ondarock
SoWhat
Side-line (https://www.side-line.com/galati-fragility-cd-album-databloem/)


RADIO
Concertzender - X-Ray (29 aug 2019)
Concertzender - X-Rated (15 sep 2019)
Battiti – Soundreaming - Radio 3 – RaiPlay Radio

FRAGILITY

Matter is made out of a handful of types of elementary particles, vibrating and fluctuating between existent and non-existent. They swarm in space even when it seems that there is nothing, combining together with the infinity.
From large ice shelves, icebergs detach themselves. Far away, in timeless places, where it seems there is only measureless space, these beings look like Buddhist monasteries, solitary lookouts absorbed in the contemplation of the divine mystery. They are beings intercepting far-off sounds of humanity, witnessing Men's torments and anxieties.
Even these giant white beings die. They explode, dismember and fall apart. I watched them dissolving into the water. Yesterday, the impenetrable mass, the unbreakable block. Today, the fracture, the fragments, the blocks. Tomorrow, water that quietly and inexorably will dig, erode and modify the planet.
Both in polar regions, in their great expanses of ice, and in the arid and desert spaces, where the sand is wind-swept and the horizons are marked by Hindu Kush and Pamir's large peaks, objectivity and reason surrender to the irrational. Here, the world seems immersed in a sort of great rarefaction.
In the ancient silence of Sarhad-e Broghil, I observe the mountain tops sunk into a thousand-year old, everlasting dimension. I imagine the unraveling of the landscape in the coming times, its inexorable mutations that will bury and regenerate the signs of Man.
The awareness of geological time, which is not that of biological gestation, places the human being within the precipice of time.
In these places, time stops and a past, neither mine nor ours, emerges. A past belonging to other men who followed the rhythm of nature, the cyclical times of day and night, of seasons.
It is a genetic message transmitted from past to future, existing in the infinitesimal breath of a constantly evolving world. A world that seems impassive in front of the incessant succession of existences, their blossoming and sudden vanishing. Short moments within the long geological times.
Apparently motionless under the sunlight, these immense corrugations on the borders between Afghanistan and Pakistan follow their geological processes, far from biological ones. The ashes of men who lived in these lands have now adapted to the long geological times, to the Earth's millenarian lacerations.
Quantum mechanics and particle experiments have taught that the world is a continuous and restless coming to light and a ceaseless disappearing of ephemeral entities. A world made of events, not of things, not of mere matter".